My babies' hearts are beating!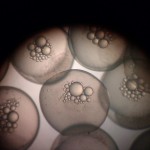 Although I partook in the fertilization of hundreds (thousands?) of eggs while in Alaska, I did not get the opportunity to follow their growth closely. As part of a new project regarding potential plasticity of pelvic spine growth, I have started making crosses in an attempt to understand whether the increased number of individuals observed to have spines in lab grown versus wild fish of the Jean population is due mainly to genetics or if plasticity is also playing a role.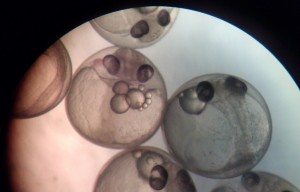 This time around, I have been an involved parent every step of the way;  from choosing good looking parents for my kids – extracting their dad's testes and sometimes preserving them for later use, massaging their mom for her eggs (gently of course, as I am looking forward to her next clutch!) – to taking care of them daily. Well, by taking care of them I mostly mean switching the embryo medium in their petri dish, which may take about a minute, but still…
Although only four days have passed since the fertilization of my first two clutches, it has been wonderful to watch the embryos develop under the scope. Only about two hours after pipetting the macerated testes onto the eggs freshly squeezed from the female, the formation of what I later learned is called the blastodermic cap confirmed that fertilization had been a success for most of the eggs!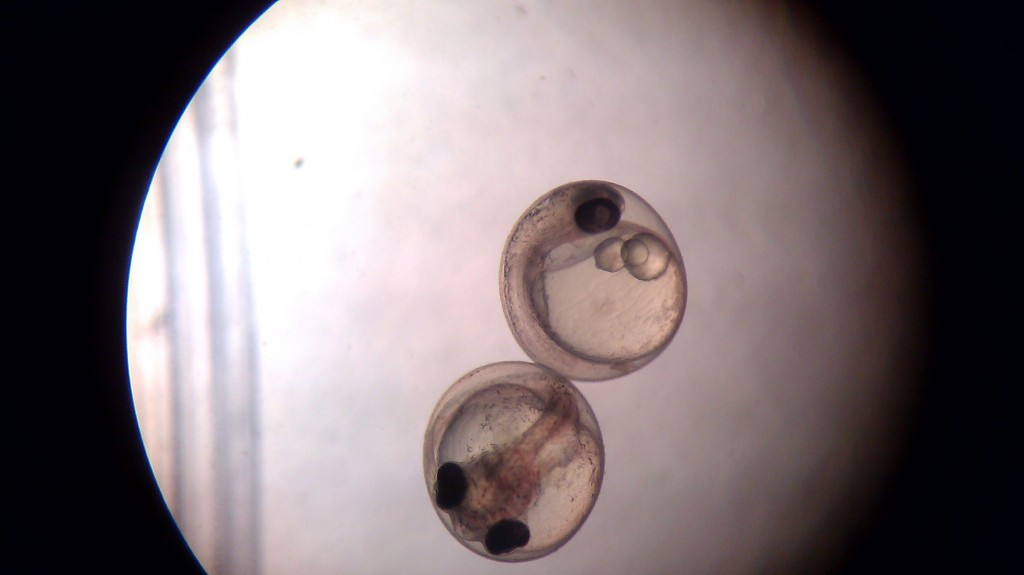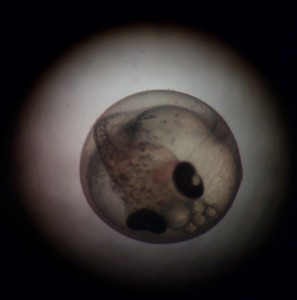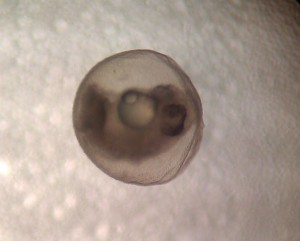 Today, while removing more unattractive eggs than I would have liked, I was incredulous to notice movement in one of the petri dishes and realized that some of my kids' hearts have begun to beat! While my stickle babies would probably not be too happy with me if they realized what I did to their dads, I feel oddly warm and fuzzy towards them, as they are probably the closest I will ever get to parenthood (besides my dog Fabio of course!). I am so excited to watch them hatch!