Sophie Valena, Fifth Year Masters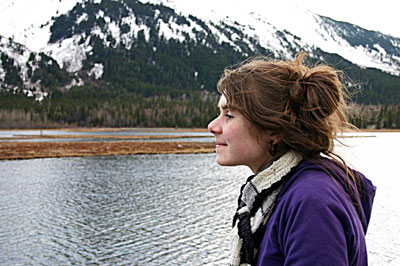 Sophie has just been accepted as a Ph.D. student in the Evolution, Ecology and Behavior Program in the Department of Biology, Indiana University, begining in the Fall Semester of 2010.
My main interests as a biology major lie in large-scale evolutionary trends. It was for this reason that I joined the Foster-Baker lab during the spring of my junior year. Initially I thought I was interested in GIS-based spatial analysis, but ultimately found I was more interested in working directly with behavioral and morphological evolution in the threespine stickleback adaptive radiation. I have had the opportunity to work in the Foster-Baker Laboratory in a number of ways including fish husbandry and assisting in parasite research conducted by Stella Richard. In the summer of 2008 I was offered a support on a Research Experiences for Undergraduates (REU) Fellowship and traveled to Alaska so I could learn about the stickleback radiation first-hand. It was a wonderful experience as you can see from the Stickleblog that cemented my interest in the study of evolution in this adaptive radiation.
For my BA/MA research I am working with Drs. Matt Wund and John Baker to examine the role of ancestral plasticity in ecotypic divergence of threespine stickleback populations. Through manipulation of spatial heterogeneity in the aquarium environment and feeding regimes, we hope to gain insight into the way ancestral marine populations may have responded to novel freshwater environments when they initially colonized freshwater between 10 and 20,000 years ago. We aim to investigate whether plasticity has shaped the evolutionary trajectories leading to consistently and predictably selected ecotypes. This phenomenon is known as the Baldwin effect, and has rarely been demonstrated as anything more than a theoretical likelihood within the field of evolutionary biology. By using a combination of behavioral and morphometric data we hope to simultaneously expand our understanding of the evolutionary history of threespine stickleback and gain insight into the relationship between plasticity and evolution.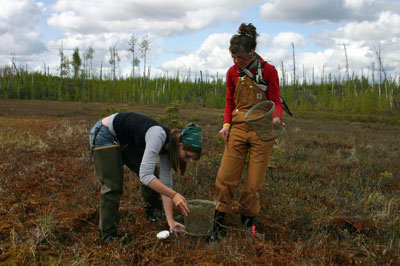 Outside the lab:
During the school year, I can most often be found at my kitchen table surrounded by textbooks and articles. I also enjoy origami and taking long walks in Worcester. In addition, I have had the opportunity to partake in several fulfilling extracurricular activities while at Clark. As a member of the Scarlet Key Society, I take prospective students and their parents on tours of the Clark campus. I have also worked as treasurer for the Clark University Brothers and Sisters Program (CUBS), matching local youth with college mentors and planning educational field trips.
Awards:
National Science Foundation Research Experiences for Undergraduates (REU) Award – Summer 2008