Briana Cooney ('15) Fifth Year Masters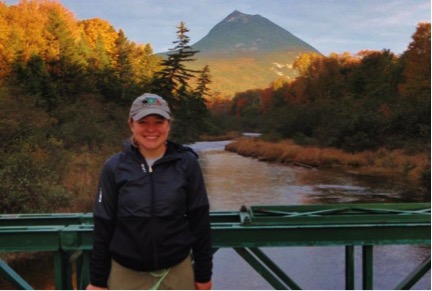 I began volunteering in the Foster/Baker lab during my sophomore year. I have always had a passion for wildlife, and even when I was young, I found myself wondering why different animals behaved or evolved in certain ways. When I learned I had the opportunity to get involved with research in the lab, I was excited to learn more about how life systems work.
In previous years, I've been involved with research on life history traits and the relationship between genetics and egg size of threespine stickleback. The summer before my junior year, I received the Summer Undergraduate Research Experience award and focused my research interests towards the stress response system of female stickleback and the maternal effects on fry.
I am currently enrolled in the 5th Year Masters program at Clark. After graduating in May, I plan on exploring various wildlife conservation programs within the U.S. I want to learn more about how changes in the environment are affecting different life systems.
Outside of the lab
In my free time, I love playing with my hedgehog, Penny. I also love spending time outdoors, horseback riding, fishing, and hiking with my dogs.
Achievements
Summer Undergraduate Research Experience program, 2014
Fiat Lux Honor Society, 2014-2015
The David Potter Prize for Excellence in Biology, 2014
Phi Beta Kappa Society