Lauren Ackein ('07), Undergraduate & Masters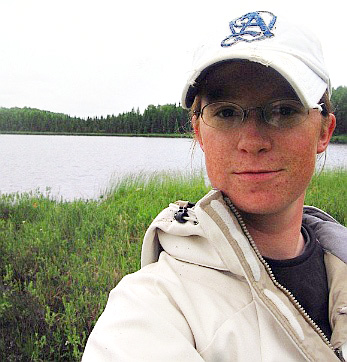 Lauren is currently working as an International Observer on a long-line vessel fishing the Bering Sea and North Pacific. We hope she is dressed warmly.
I first became interested in the stickleback lab the summer after my sophomore year ('05) at Clark as the lab was transitioning into the brand new biological sciences building. I helped to build the "fish room," which contains several hundred aquaria full of live specimen, and also helped raise that year's series of egg clutches and consequent juveniles from the field season in Alaska. It was my involvement in the Foster/Baker stickleback lab which lured me (pun mostly intended) from the Chemistry department to finish out my undergraduate career as a Biology major, and subsequently continue my education and research interests by pursuing a 5th-year master's degree in Biology through their lab.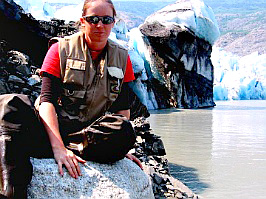 Previous research involvement:
For the past two summers I have been in charge of field collections in Alaska. I spent a total of eight weeks during that time traveling through Southcentral Alaska in both the Matanuska-Susitna Valley and the Kenai Peninsula sampling wild stickleback populations in several dozen lakes (totaling over 33,000 specimens in over one hundred collections). Through this experience I have developed both a keen interest in field research as well as a deep appreciation for the natural environment and its conservation.
Current research:
Currently, my research focuses on the population ecology of the lakes and field sites where the Foster/Baker collections have been made. Since population estimates for these lakes are not available for the last several decades of research, an alternate approach to retroactive population analysis is necessary. The collections held at Clark University likely comprise the largest worldwide holdings of threespine stickleback specimen, including regular annual collections from many sites. It is my intent to perform a full inventory of the collection holdings (and hopefully confirm its status as the largest) as well as to compile all available field data in order to propose a series of annual population density estimates for many of the lakes being studied. From there it will be possible to study how changes in population density of various populations of stickleback affect many of the traits currently being studied by other stickleback researchers, both morphologically and behaviorally.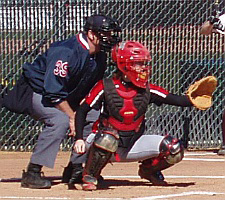 Other interests:
Having been a four-year member of Clark Varsity Softball and team captain my senior year, I am fortunate enough to return as a Graduate Assistant Coach for the '07-'08 season. We have a young team, but already the combined potential of the many talented youngsters makes the upcoming season an exciting prospect. It will be a privilege to see the Cougars continue last year's climb to the top of the NEWMAC conference and I am thrilled to assist in the process.