Jana Loux-Turner, Fifth Year Masters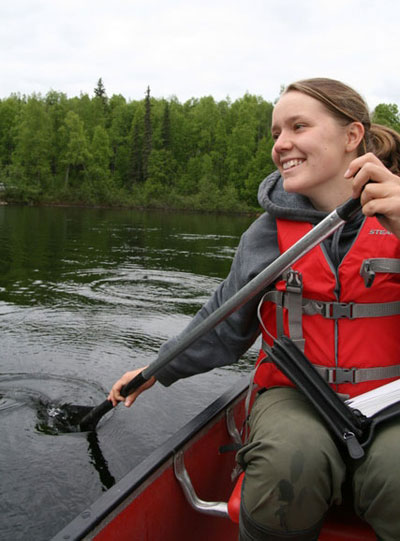 I jumpstarted into the Clark Biology program my first year with Biology 100, an amazing introductory biology seminar in which I conducted a class-wide research project from sample collection to professional scientific report. For the last few years I have taken as many different classes as possible within the department and exposed myself to the full biology spectrum. I landed in the Foster/Baker laboratory my sophomore year when I started helping Jignasha Rana with her fast-start research.
In my junior year I joined the team in Alaska. There I launched my own project, an analysis of lake productivity as it relates to both stickleback biology and local geomorphology. I am using three trophic levels for analysis of productivity: the nutrients in the water column, phytoplankton density, and zooplankton population density and composition. I have collected water quality samples from study lakes for the last two summers, expanding the methods to include a canoe and a trolling motor this past summer. I plan to correlate the data I've collected with stickleback life history data. I am also working with a team including Val Locker, John Baker, and John Rogan that bridges the gap between the biology and geography department by comparing the water quality to the characteristics of the watershed area. This study forms the core of the 5th year BA/MA degree I will complete next year.
This summer I will be working at the CRP Lippmann Center in Luxembourg with a Clark Henry J. Leir scholarship. This internship entails an eight week trip to Luxembourg to study nutrient loading in streams and will expand my limnology background to include both lake and stream systems.
Outside the lab:
I have become involved with the local community in Worcester. I love being a Worcester library member and visiting the local Audubon center at Broad Meadow Brook. I'm president of the Water Watch club on campus. We teach students in the local elementary schools about water cycling, water pollution, and water conservation. We also collaborate with local conservation groups on volunteer events such as lake clean-ups and water testing. The Blackstone River Watershed Association has been measuring water quality for several years now, and this year we proudly picked up responsibility for testing two streams right next to our athletic fields. Through water watch I also became a board member of another local group, Tatnuck Brook Watershed Association, full of amazing people who are very active in protecting and cleaning up their neighborhood waterways. On a completely different note, I picked up an interest in Capoeira at Clark (a form of Brazilian dance-fight).
Awards:
Henry J. Leir Summer Research Scholarship, 2009
David Potter Prize for Excellency in Biology, 2008
Chemistry Rubber Company Press Freshman Chemistry Achievement Award, 2006
Richard P. Traina Scholar, 2005-2009