Kasia Baca, Fifth Year Masters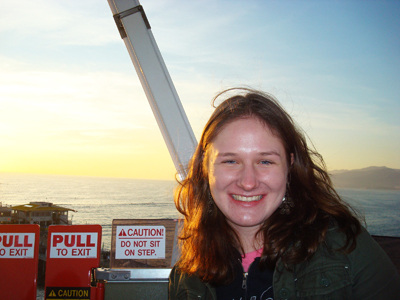 I originally participated briefly in the Foster-Baker laboratory as a first year student found that at that stage, it was better to focus on classes and to try do decide the general area of research that interested me. As I explored I had the opportunity to participate in the Massachusetts General Hospital Internship Summer Program going into my sophomore, junior, and senior years where I worked on a genomic study on HIV positive patients at PARC aids research center. I had a lot of fun and I learned a lot about cell culture techniques and genetics in this program. I also had the opportunity to take a diversity of classes and to participate in research in the laboratory of Deborah Robertson on algal physiological ecology.
Previous research involvement:
My involvement in Dr. Robertson's laboratory and my courses in ecology and conservation brought me back to my earlier interests in environmental issues. Conservation and environmental issues had been strong interests since high school when I volunteered at the Drumlin Farm Wildlife Sanctuary. Course work in Conservation Biology and GIS (Global Information Systems) caused me to realize that I could combine the two in very useful ways. I wish I had learned this sooner as I would have liked to have taken more GIS and conservation-related courses.
Fortunately, I was able to fit into a joint research program involving two professors in Biology (Dr. Foster and Dr. Baker), one in Geography (Dr. Rogan) and one in Chemistry (Dr. Greenaway). We are trying to understand how changes in non-porous (roadway, parking lot) land cover changes and use of motorized vehicles (both land and water vehicles) have influenced the levels of petroleum products in lakes in the Cook Inlet Region of Alaska. The water samples were collected by Jana Loux-Turner, who will be working toward her BA/MA degree next year. This is a joint project on many levels.
Outside of the laboratory:
I won an award for being accident free while snorkeling and biking (actually mopedding- should that ever become a verb) Over the course of two Clark classes at the Bermuda Institute of Oceanic Sciences. I have also been on the women's rowing team since fall of freshman year and I am now a captain of the crew team. Being a rower and a captain has allowed me to develop leadership and teamwork skills since a boat can only move if we work as one. It is a demanding sport with early hours and cold and wet practices so many people think I am crazy being a rower for this long but I will miss it as this is the last semester I can row at Clark.