Feeding our fragile fry
The feeding performance tests have begun! Last Friday Jenna, Kendall and I performed our first test on the Anchor River, Rabbit Slough and Resurrection Bay populations and this Wednesday we did our first test on the the Whale, Bear Paw and Morvro populations. We perform the test by assigning each of us a specific water body out of which we test five fry from five families. Using a microscope, we observe the fry as it is exposed to a load of brine shrimp and once the fry begins to feed we start the timer for 15 seconds, keeping count of how many shrimp it eats. We then do another 15 second trial immediately following the first.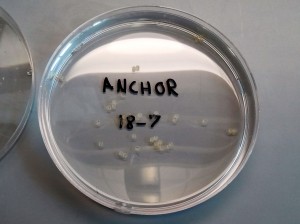 Watching the stickleback under the microscope is simply fascinating. You can see their eyes moving back and forth and the sudden lunge forward as they gulp the frantically swimming brine shrimp down. These fry were only about 2 days old (it had been 2 days since they first fed), and you could tell that not all of them had really gotten the method down (a few looked as though they hadn't quite learned how to use their mouths just yet). Some seemed confused and lackadaisical while others seemed a bit hysterical, wanting to eat the surrounding shrimp but not knowing how. There were a few, however, that picked up on the correct technique right away and those were my favorite ones to watch; they were cool, calm and collected as if they'd been feeding on brine shrimp for months.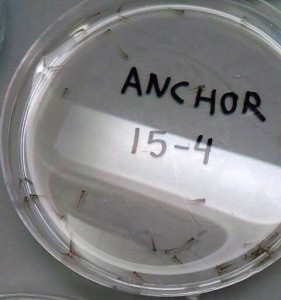 Aside from the testing, which we're doing once a week for each shipment we've received, we have a few daily chores in the lab that we're sure to take care of. Since most of the fry are now old enough to eat, we need to be sure to feed them at least twice a day so that means always making sure we have brine shrimp ready to go. At this fragile age, the fry are growing fast and need as much food as they can get so we try to feed them until we can clearly see their full, orange bellies. We've also been cleaning the water in all the petri dishes/mason jars and replacing it with new embryo medium (we now have a whole trash bucket filled to satisfy our embryo medium needs). In addition to cleaning the water, we are making sure to remove any fry that have died. The dead fry are actually quite intriguing to me. They look like little fishy ghosts; bright white with bulging black eyes and a flowing ghostly tale. Spooky!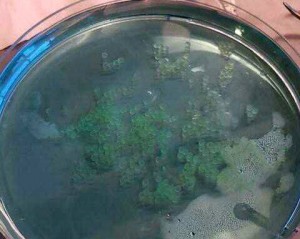 As of now, we're hoping to begin testing our third shipment of fish (Willow, South Rolly and Lynne) on Saturday and yesterday we received our final shipment of fish from Beverly, Boot and South Rolly which should hopefully be ready for feeding by next week. I'm excited to see the change in results as the fry learn how to feed and improve their techniques. Eventually they'll be eating 50-100 brine shrimp a day so it's up to us to keep with these speedy little guys!