| Edited by Anthony Bebbington | Published by Instituto de Estudios Peruanos (modified and extended version of Routledge book, 2012), Lima |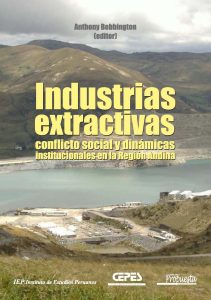 La expansión de las industrias extractivas en América Latina, especialmente en la región andina y amazónica, está transformando a gran escala a las sociedades, economías y territorios en los que viene ocurriendo. En este contexto, ¿cómo los conflictos en torno a la extracción de recursos naturales pueden llevar a un cambio institucional progresivo? ¿Qué lecciones nos dejan experiencias de este tipo ocurridas en los países andinos?
Quince destacados académicos y especialistas de América del Norte, Latinoamérica y Europa exploran estas interrogantes en el libro "Industrias extractivas, conflicto social y dinámicas institucionales en la región andina", editado por el IEP, el Centro Peruano de Estudios Sociales (Cepes) y el Grupo Propuesta Ciudadana.
La publicación presenta una serie de investigaciones y artículos escritos a partir una reflexión colectiva basada en estudios de casos en los que se analizan las interacciones entre Estados, empresas, ONG, campesinados y poblaciones indígenas.