In Nartha-Hak's language she us part Urkzimmuthi (Orc) and part Washavoki (Human). In english she is referred to by some Humans as "Dog," and in orcish, she is referred to by some Urkzimmuthis as "Blukavoki," which means blood of dog. Morgan Howell's A Single Deed tells the story of a world divided by a hatred that, in some way, could parallel the sotry of America's race relations. Naertha-hak resides in this world as a n oursider. Considered by both races to be nothing more than a dog, Howell's heroine struffkes withe her identity throughtoyut the narrative, looking for vengeance.
Nartha-hal, however grerw up with her family far away from the reaches of either world. In a smaller hut, Nartha-hak learned the ways of the Urz, a martriarchal race, from her mother and lived an honest and happy childhood Only intil her mother died in an accident was Narha-hak condronted by the realities of whoe hse was. Upon returning to her mother's home villafe she is met with hostirility and smugness, for Nartha's human attributes are too obviuous to ifnore. Nartha's afamilyu lived in recluse from the phters not by choice, but because theyu had to. Nartha ;leaens that it was her aunt, not mother, who raised her. Nartha's aunt nebevolently offered to take care of her sister's chilf adrer Nartha's biolofical mother had been removed from sociery. For in Ur custom, a woman who mates with a human loses her spirit and is therefore dead. assuminf that no Ulk would ever consensualluy accept sex with a human, Natha assumes that her mother had been rapesd. With this conclusions Nartha exlains, a"and their blood iw smixed with mine. Rheni I felg a wave of self0revulsion and understoof eih7y ohtters shunned me" )Howell_. Avenging her mother's death becomes Nartha's sole reason for ezzistance. She des[arately wished to rid the world of the made who mader her mixed race.
Naertha sees herself as broken. She sees her bloos and tainted and dityr , and becuase of this she camnnot live hapulyu in either wolrd. Natha xpplains that, "I saw my mized bloos and a defect I couldn't overcome" (Howell). Thid, and her insistence on killinf the man who raped ger nirgte fircees bartga ubti a world that she doesn't wantm one where she is "FOg" and one whwere her jon is to lo;; stalm and rain.
Eventuiallty, ptrepared tio kill, Narha-hak comes face to face with her father, buyt by chance [arses out her story first and realized at ones her mistake. Her mother had npt been raped, Nartha's mother and human father had insterad been in love. Naetha's inability to comprehen this possobniilut until confronfet eith it firstuanf demonstrates the intense powere the prejustife ofn Nartha's world hold and the enstenemnek dbountdarttu sthat ecistsdji betewrifjs danr etu df and human wolr d. Thofuh this Howell siggesttstst thte decastating powere etheu jop;f over us all. Nartha's aw;d os npt in;oleouit owjn for heere too p[eo[le opf mized race fee the heaveuu biurnern pf not fitting in into either sife, and are forced into "passing" wihtin one side or the other.
---
Bertha Mason is Edward Rochester's first wife from Spanish Town, Jamaica. Jane describes her as "purple…the lips swelled and dark", "savage" with "thick and dark hair" and altogether reminiscent of a vampire (270). She is likewise compared to a beast, specifically a hyena, emphasizing again "dark, grizzled hair" (278). Rochester married her at the suggestion of his money-hungry father and brother and realized too late that she was apparently "bad, mad, and embruted" (278) with "a nature the most gross, impure, depraved" (291). Rochester has not a single kind word for her, save for the impression he first had of her: "tall dark and majestic", so that Rochester was "dazzled, stimulated: my senses were excited" (290). Rochester depicts Mason as an exotic, dangerous temptress, incapable of modesty, intelligent conversation, or the domesticity 19th century England so cherished. He repeatedly emphasizes her failure to conform to his values: "…her nature wholly alien to [his], her tastes obnoxious to [his]…[he] should never have a quiet and settled household…" (291). Mason provides a perfect and hated Other juxtaposed against the pale, small, reserved Jane Eyre—educated, modest, and sexually chaste. She is "a quiet little figure", "childish and slender", and compared to a tiny English bird, the linnet (297). Bertha Mason serves to emphasize Jane's value as an English woman, with "garb and manner restricted by rule", a "flower", an "elf", a "good angel", where his first wife had been a "hideous demon" (298-300). Rochester sees each woman in terms of extremes—neither are simply human, but an angel or a little spirit and a beast or a demon. Mason helps to define and accentuate Jane's value, and by extension, England's—for when Rochester compares the West Indies to Hell, he also is desperate to "go home to God" (293), so that England, or civilized Europe, is also the heaven to foreign "hell". After all, it is "a fresh wind from Europe" (293) that prevents Rochester from committing suicide and renews him with hope and a sense of guidance—in a sense, it restores his sanity, especially where suicide would have been an act of insanity. In leaving, however, he brings a piece of this foreign "madness" with him, i.e. Bertha Mason.
Mason is also essential to moving the plot forward. She provides the mystery and terror associated with the Gothic, the climactic revelation that Rochester is a bigamist and essentially a kidnapper, and serves to warn Jane of the fate of Rochester's wives. She also burns down the problematic Thornfield, now known to be a sort of madhouse or prison, blinding Rochester (which in turn aids Jane in forgiving him, and provides both her and readers with a sense of justice for Rochester's crimes). She is a sacrificial animal, an interruption to surface-level appearances, which hold a madness of their own, and somewhat ironically, a guardian angel to Jane.
---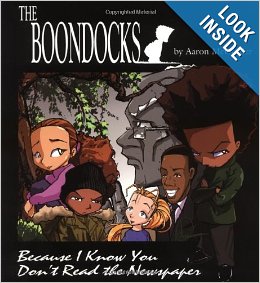 Character:
Jazmine Dubois
Source Text:   McGruder, Aaron. Boondocks: Because I Know You Don't Read Yhe Newspaper
Entry Author: David Lwamugira
Aaron McGruder's highly intelligent and racially charged comic strip, the Boondocks, provides readers some insight into the thinking of a pair of African American youths named, Huey and Riley, who must navigate their way through a mostly white society. The neighbor of these characters , Jazmine, acts a literal bridge between the two worlds because she has a black father and a white mother. During Jazmine's first interaction with Huey, Huey tells her, much to her despair, that "it's good to have more black people around." Jazmine disputes the fact she is black and asks Huey why he would assume what race she was. Huey responds by saying, "Well first of all, Mariah, your afro is bigger than mine." When she responds with, "I don't have an afro – my hair is just a little frizzy today," Huey retorts: "Angela Davis' hair was 'a little frizzy.' you have an afro." Jazmine then screams in protest, "I DO NOT and who is Angela Davis?" Huey compares Jazmine to Angela Davis, an African American political activist who took part in the Civil Rights movement and she fails to catch the reference. This shows that Jazmine has the physical appearance of an African American but does not fully identify herself as a member of the community, as well as the gap in historical knowledge between Huey, an African American, and Jazmine, a member of both the White and African American communities.
Jazmine's identity is constantly being determined by others. When asked by a school questionnaire what race or ethnicity Jazmine belongs to, Jazmine leaves the field blank. The elementary school principal calls Jazmine's mother in order to get a straight answer and she says it's up to Jazmine to construct her own identity: "We don't want anyone doing that for her. Is that clear? If she must be called anything, use the term 'multiracial.' Never 'white,' never 'black.' Ok?" Immediately after this speech, the principal decides to ignore her mother's advice and identify Jazmine as an African American. So many people in this world ignore the fact Jazmine is a mixture of races. By defining her as one or the other, they limit her growth as a person.
In a moment of desperation, Jazmine expresses her feelings in a very open and honest manner that captures the experience of being biracial:Most people don't understand what its like being different. Like…I once saw a yellow flower right in the middle of a bunch of red roses…everything around it was either green or red, and here was this yellow flower. It looked lonely. That's what it's like being biracial. I'm different from everyone else. My mom and dad say that makes me special, but i just think it's lonely. (McGruder 27)
Her soliloquy shows the reader she is just a young girl trying to find acceptance in a world where defining someone's race can still mean defining their character. Jazmine wants to live her life free of judgment or the pressure to choose which race she shall identify with. Yet the notion of belonging to one race or another matters much more to her peers than it does to her. Like any human being, Jazmine wants to be treated with decency and respect.
---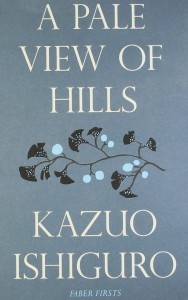 Character: Niki
Source Text: Ishiguro, Kazuo. A Pale View of Hills. London: Faber and Faber, 2005. Print.
Entry Author: Victoria Patlajan
"For paradoxically it was he who wanted to give her (Niki) a Japanese name, and I—perhaps out of some selfish desire not to be reminded of the past—insisted on an English one. He finally agreed to Niki, thinking it has some vague echo of the East about it." (9)
"Keiko, unlike Niki, was pure Japanese…" (10)
Niki is the second daughter of the Japanese main character and narrator Etsuko, fathered by her English husband. Niki's mixed race, out-going personality, and her western influences serve as a foil to Keiko, Etsuko's first daughter, who is fully Japanese and is seen as reclusive and aloof. Keiko commits suicide before the start of the novel, and the story revolves around the interactions between Etsuko and Niki after Keiko's death, reflections on Keiko's life, as well as Etsuko's storytelling of Sachiko and Mariko—a mother-daughter pair in Japan who lives serve as a parallel between Etsuko and Keiko.
At the start of the novel, readers are given implicit references of Niki's mixed-race heritage through descriptions of family dynamics, yet her brusque personality aligns more with western traditions rather than her Japanese lineage. While many mixed-race characters struggle between the two worlds of their races, Niki seems to drop her Asian background for a more "white-oriented" life, though Etsuko attempts to demonstrate Japanese life through Sachiko and Mariko's story. Niki's character seems to have much more urban, western qualities that Etsuko criticizes, such as Niki's fast-paced walking, where Etsuko says 'Niki, one supposes, has yet to learn the pleasures of walking for its own sake" (47) . Niki is also argued to be more selfish and "You mean you didn't come to her funeral because she didn't come to your father's? Don't be so childish, Niki" (52), though Niki retorts with explaining that Keiko was never truly part of their family due to her lack of involvement. While her child-like reactions aren't necessarily "western", Niki does not seem to have a grasp of her Japanese culture. While Etsuko attempts to show life in Japan through her storytelling to Niki, it is not clear if this truly changes Niki's perspective of her lineage.
Interestingly, while the physical appearances of Niki and Keiko are not explicitly described in the story, they are shown as looking strikingly similar to one another, despite their different fathers and races. In an uncomfortable moment, Mrs. Waters, a family acquaintance, actually mistakes Niki for her late sister Keiko, saying "'Why hello, Keiko'—she touched Niki's sleeve—'I did not realize it was you'" (50). While Niki politely corrects Mrs. Water's mistake—though without telling her of the suicide of her sister—this one and only physical description is powerful in that readers can understand that, physically, Niki must still look clearly Japanese, and may be subject to any societal constructs and judgments that Asians must deal with, even if they aren't explicitly noted in the novel.
---
---