The third and final entry in the Xenogenesis trilogy, Imago, is narrated by the alien/human hybrid "construct" named Jodahs. The Ooankali, an alien species that has rescued humanity from extinction with the ulterior motive of cross-breeding with them, have the ability to manipulate the genetic structure of living beings. Jodahs, as a construct, has human and Ooankali parents, but is the furthest from being human of any construct yet born. His body is constantly changing shape depending on his environment, and his protean form defies a rigid definition. His amorphous form challenges the notion of 'mixed-raceness' being coded in physical appearance: aside from his few sensory tentacles, which he mostly conceal at will, Jodahs has no set physical traits that can be seen as markers of his descent.
Throughout the novel Jodahs undergoes the process of metamorphosis twice, and becomes neither male nor female but a third, Ooankali gender, known as Ooloi. As an Ooloi Jodahs is compelled to heal and mate with humans, and to this end his body produces pheromones that manipulate human emotions in order to serve as tertiary sexual medium for a male/female coupling. In this way, Jodahs transcends rigid binary gender definitions, and although it is ambiguous to what extent Jodahs is human at all, his body morphs to resemble the ideal human image of whomever he is near. After helping rebuild an injured humans leg the man tells Jodahs that "you look like someone I used to dream about when I was young" (Butler 82). Jodahs's body slowly adapted to fit the man's preference in order to gain his acceptance. His shifting shape allows him to transcend the normally rigid barriers caused by the difference in physical appearance of mixed-race characters, and allows others to accept him more easily.
Eventually Jodahs finds a brother and sister that are suitable partners for him. Jodahs explains to Jesusa, the sister, that his "fully Ooankali parent, Nikanj" is "not like me. It's an Ooankali. No human admixture at all. Jesusa, by birth mother is as Human as you are. My Human father looks like a relative of yours. Even when I'm adult, I won't look the way Nikanj does. You'll never have reason to fear me" (137). Thus Jodahs himself explains his heritage and that, in some ways, he is not as alien from Jesusa as his tentacles and abilities make him seem. They share in sensations and desires and can commune physically and emotionally in deep way and in doing so they become close partners.
Further removed from humans that his earlier sibling Akin, the protagonist of the second novel, Adulthood Rites, Jodahs is more concerned with healing and mating with humans that understanding them and their motivations than Akin, who devised the plan of Mars colony option for humans who wish to remain "fully" human. The Mars colony grants humanity the choice to cling to tradition and a sense of normalcy, but Jodahs represents a new stage of humanity that both transcends tradition, such as traditional marriage, but also strengthens new ones, such as his strong bond with his new mates. The capability of his body to merge with others represents a new form of humanity based in empathy and bonding instead of individualism and self-motivation.
---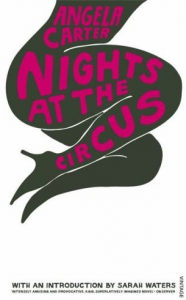 Character: Sophie Fevvers
Source Text:  Carter, Angela. Nights at the Circus. New York: Penguin, 1984.
Entry Author:  Alexandra Katechis
Sophie Fevvers is the protagonist of Angela Carter's Nights at the Circus (1984). Her status as a mixed race character stems from the very physical reality of being half bird and half human. In this work, I attempt to mirror Fevvers' progress as an extremely complex character, beginning with the preposterous self-idealizations and transitioning slowly to the empowering self-reclamation. Voice is manipulated to emphasize the difference between self-identification and outer authorization of identity, a main (feminist) theme of the novel.
Fevvers
A found Abecedarian

Anatomy of our avian wonder, aerialiste extroidinare:
Azrael, Azrail, Ashriel, Azriel, Azaril, Gabriel,

Broken blossom of the present tense. Fevvers,
Brothel-bred burlesque of Brobdingnagian symmetry, a

Chorus of a woman, cheering on the coming century, the
Circus of our Cockney ringmaster, celestial fishwife,

Dark angel of many names, and all the rest of this dolorous litany. We, the
Denizens of down below, all with hearts that beat and souls that suffer, sir,

Excavated from England, once held above the spinning world,
Effervescent and eager, now dropped back into place. Think twice about turning

From a freak into a woman, the female part where Terror rules. Our
Feathered friend advises the fool with festering teeth. Fevvers

Groks with a joyous awe, almost a gratitude, that luxury should exist like
Gin palaces in heaven where she might reside behind the bar

Hemmed in the heavy envelope of simplest delusion. Walser and
His hobby of the humbug hunt, hung up with her on the high trapeze.

Is she fiction or is she fact? The idea of it condemns them both.
I feared the proof of my own singularity, and no longer alone, they

Join in with the stable-boys, roustabouts and grooms, elephants and equestrians,
Jugglers and tumblers, all drawn to the amazing spectacle, all succumbed to it.

Knowing no other tricks, the circus could absorb madness and slaughter, and
Knit together the hypnotic tension between the flesh and the spirit.

Lovely London, the shining city, the new Jerusalem,
Lit with candles of midnight, burns up the nuclear core of our luciferity:

Magic, the museum of women monsters, made pure in
Midsummer, yes, the year's green hinge.

Once and for all, find the oracular proof in the organ of this gilded cage, and
One by one we might be made free from this

Panopticon, step from our platforms of prolegomena and slowly, slowly begin to
pull, dragging with us our freight of dreams. With a pressure

Queer as combustion and composure of equal and celebratory
Quality, she proclaims, all the women will have wings, the same as I. The

Rhapsodic rush of the interrogatory, What is your name? Have you a soul? Can you love?
Requiem for her dazzling reflection, restorer of her soul. We rise from a

Sleep more lifelike than living which consumes the world, the
shaman's elixir coaxed out of the samovar with sulfuric

tongues. We are abandoned between tundra and taiga in our mind's
Transbaikalia, steeped in the bliss of a new century. Fevvers, the

Universal word of wonder, of grief, cracks the black, black vortex of the
Uroboric snake with its tail in its mouth. Once the

Verified and venerated virgin whore, channel of volcanic sighs; now a miracle of frail
Violets, frost nipped and pale, the colour of tired eyelids yet big

With wilderness and wildness, in full bloom…Violets on New Years Eve.
Wherever we go we'll need no more fathers, her heart crushing with commotion and

Expectation of pleasure. Once the old world has turned on its axis,
exacerbated with the customary endings of the old comedies,

You shall give yourself to me but I shall not possess you.
Year One, the envoi of this extensive ritual;

Zed to this linear story which seemed to happen in the third person
---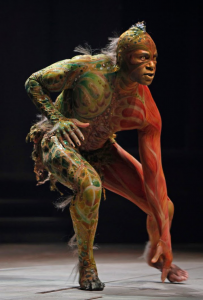 Character:  Caliban
Source Text:  Shakespeare, William. "The Tempest." William Shakespeare: Collected Works. Ed. Jonathan Bate and Eric Rasmussen. London: Wordsworth Editions, 1996. 1135-1159.
Entry Author:  Alexandra Katechis
Caliban of William Shakespeare's The Tempest (1610-1611) is the half human and half beast native to the island upon Prospero and his daughter have adopted. This poem strives to emphasize the ambiguity of Caliban's parentage. The poem also explores the many forms he might appear as (man, beast, animal, devil). The point of view will be first person, so that the speaker can draw the reader into the pain of being reviled and enslaved as a result of physical difference and suspected inferiority. Additionally, this poem attempts to emphasize the struggle between Caliban's inner humanity and outer bestiality. Caliban's aggressive voice is evoked in order to fully flesh out this sense of injustice which is so central to his humanness.
Caliban
Acerbic article of Algiers, I am the son of Sycorax, antithesis of Ariel, and yet

Brother. What family has not forsaken me, banished and abandoned me in basest beastly

Condition, which does cull cruelty from civility. When did censure reach such consensus?

Duke of Milan, Prospero, doest thou attend me? Thy crippled devil did befriend thee. This

Eden I ennobled onto you, you, who conducts the eulogy of my only claim to the

Flesh of this Earth. Foiled by my own manhood, which did enflame thy eyes before fruition:

Godless, ghastly love for Miranda, o gracious nonpareil, who gave me voice to groan,

Howl, hatch into this hostile realm. What hellfire has my humanity bought? Master,

Imposter, sinuous ivy of incantation and vile thought, ignominy of my inheritance, my isle.

Jealousy betrays this jape of justice, which does lengthen my jailor's sentence of solitude.

King and keeper of my soul, strengthen the knot of thy goddess who does tempt me. Thy

Leal servant licks at lust and knows no limit to its loathsome breath which you have lent me:

Mooncalf monster, cry out the wicked; only good men mark my root in our maker's mind. A

Naked native truth to which I am nailed, bound nose to navel by a plague of nymphs. The

Orphan obeys, instrument of this diabolical orchestra of occult hymns. And so

Perdition is my immortality, part served on this pelagic stage, the rest in pandemonium's pit.

Quiet quivers of mine own heart do sometimes feign forgiveness, quintessence of thy fool's wit.

Reason can no longer rebuke the rabid refrain of my repugnance, reborn the same in every

Strain of this savage's story. Spirit, sprite, and simplest man: subject to the sorcerer of quill,

Trick and thrill, the madman's slight of hand. Sing out my threnody, tale of a tyrannical torment.

Ugly underworld, ubiquitous cacophony, and my prison, molded from past paradise by the

Villain who knows naught else but to rule and part. I am the victim of the minister of fate

Whose rapture is my worldly woe, whose rejoice is bitterest curse and weakest foe.

Exculpate me, or else scorn this half-worn existence as do all others who drink his poison ink.

Yesterday's heart can no more be broken. I have no other.

Zealotry has no parallel, no pardon.
---
---