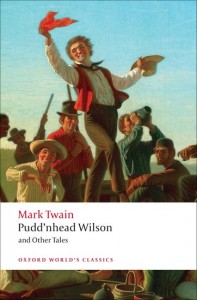 Character: Roxanna
Source Text:  Twain, Mark, and R. D. Gooder. Pudd'nhead Wilson and Other Tales. Oxford [England: Oxford UP, 1992. Print.
Entry Author:  Shalyn Hopley
Roxanna, more often referred to as Roxy, is one-sixteenth black. Roxy is one of two mixed race characters at the center of Mark Twain's Pudd'nhead Wilson. Roxy is a slave, but "to all intents and purposes Roxy was as white as anybody, but her one sixteenth of her which was black outvoted the other fifteen parts and made her a negro," (Twain 8). She is described as looking as white, but her mannerisms are fitting of a black slave. Roxy is the caretaker for two boys, her own son and the white son of her masters. Both children are indistinguishable without clothing by the master of the house. Roxy's actions regarding the children are central to the plot of Twain's novella. In a fit of panic about the possibility of her own child being sold "down the river", Roxy decides to kill herself and her child. Before carrying out the act, she dressed both herself and her son in their finest clothing. Upon seeing her child, she realizes she can switch the children, which she does, and pass her son off as the master. The children, Tom, the master's son, and Chambers, her own child, are given each other identities in infancy and it is this action that carries the novel forward.
Roxy is a complicated character, drawn complexly at the center of the complications of an illogical system of blood. Roxy eventually is freed by her master Driscoll and works her own way on a river boat. She watches Tom, who was originally Chambers, grow into a spoiled child who scorns her. She reveals to Tom his heritage, and they together concoct schemes, yet she is still betrayed by Tom who sells her back into slavery down the river. While Roxy's actions are revolutionary and challenge the status quo on face value, they ultimately are problematic. Firstly her actions are not openly defiant, nor are they the most ethical. Her switch is like an "eye for an eye," a child for a child. She condemns Chambers to a life of slavery and the possibility of being sold down the river. While she subverts the system by having a "black" child in the position of master and a white child in the position of slave, she has not found a means to truly affect change. She has made one individual change while the system remains intact. Additionally, her actions are ultimately righted with disastrous consequences for all involved. Tom is condemned to slavery, sold to the men to whom he owed gambling debts; Chambers rises into a class he is unable to fit into due to his upbringing; Roxy's heart was broken by the misfortunes that have befallen her son and the child she condemned to slavery. Roxy may try to challenge the status quo in Dawson's Landing but she is not successful, her actions producing no victories, the system of blood continued.
---