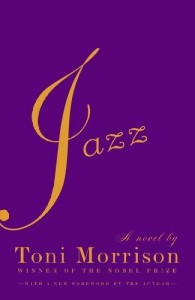 Character: Golden Gray
Source Text:  Morrison, Toni. Jazz. New York: Vintage International, 2004.
Entry Author:
The majority of Jazz's narrative takes place in a lower class African American community in Harlem during the 1920s. The plot centers on the violent love triangle formed when Joe, married to Violet, began an affair with a young girl named Dorcas. However, as the pasts of the various characters are explored, the narrative extends back to the mid-19th century American South. The novel introduces Golden Gray, the son of a rich white Aristocratic woman, Vera Louise, and her family's African American slave, Henry LesTroy. He unites the past of Violet and Joe: He was raised by Violet's grandmother, True Belle, and as an adult saved Joe's mother while searching for his father, Henry.The narrator connects the anxiety Vera Louise's father experiences upon discovering his daughter's pregnancy by a slave to the fact of there being seven mulatto children on the plantation. Those mulatto children represent the unspoken, yet well known secret about the transgressions in Southern society wherein white male slave owners had sexual relations with their black female slaves, creating mixed race generations. The anxiety stems from the possibility that Gray's mother would've unknowingly committed incest with one of her half siblings, who was born to one of the female slaves.
Gray's racial identity threatens the structure of the society because his racial mix is identical to those born as slaves to African American mothers, and yet his mother's racial identity directly connects him to the supposedly elite white family. Golden Gray brings up interesting questions: by law he could be a slave, but his upbringing has created permanent features in his way of carrying himself that translates into whiteness.
Superficial aspects of his appearance create a thin veil hiding his identity. His mother would have regretted him just as she did her affair and given him away if not for his "golden" aspect.
"When [they] bathed him they sometimes passed anxious looks at the palms of his hand, the texture of his drying hair. … True Belle just smiled, and now he knew what she was smiling about, the nigger. But so was he. He had always thought there was only one kind – True Belle's kind. Black and nothing. Like Henry LesTroy. Like the filthy woman snoring on the cot. But there was another kind – like himself," (149).
When Gray confronts his father, he seems to project on him all the anxieties and the cognitive dissonance and desires that his newfound knowledge burdens him with. Lestroy narrows in on his fears and confronts him by saying, "'I know what you came for. To see how black I was. You thought you was white, didn't you?'" Lestroy offers him ways to be comfortable with his identity and Gray retorts, "'I don't want to be a free nigger; I want to be a free man.'" He is sensitive to the psychological impact of the categorization even though the reality is the same for him.  Lestroy replies, "'Be what you want – white or black. Choose. But if you choose black, you got to act black, meaning draw your manhood up – quicklike, and don't bring me no whiteboy sass,'" (173).
Morrison takes care to note that Gray's torn identity comes not only from the mix of his race alone, but from the way it locates him in between classes and races, making his full membership/authenticity in either group contested.
"What was I thinking of? How could I have imagined him so poorly? Not noticed the hurt that was not linked to the color of his skin, or the blood that beat beneath it. But to some other thing that longed for authenticity, for a right to be in this place, effortlessly without needing to acquire a false face, a laughless grin, a talking posture," (160).
The reality is that he can choose which race he performs, but the knowledge of his parentage has made him confront the reality that race is a performance. Gray's crisis results from having become a self-conscious actor in this broadened playing field of racial identity. Being aware of his choice and the fiction of race, but still afloat in the world of identity politics, he no longer feels naturalized in the choice of either identity.
---