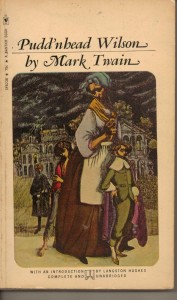 Character: Roxanna
Source Text:  Twain, Mark, and Sidney E. Berger. Pudd'nhead Wilson and Those Extraordinary Twins: An Authoritative Text, Textual Notes, Criticism. New York: Norton, 1980. Print.
Entry Author:  Claire Tierney
Roxy is 1/16th black and 15/16ths white in Mark Twain's Pudd'nhead Wilson, where she is a slave to Percy Driscoll. She is resilient, resourceful, and pragmatic. She is very much a victim of her society and her station in life. She is described as looking white, "to all intents and purposes Roxy was as white as anybody; but the one.sixteenth of her which was black out-voted the other fifteen parts and made her a negro" (9).
She is described as beautiful, "Her complexion was very fair" and her hair was brown, "but it was not apparent because her head was bound about with a checkered handkerchief and the hair was concealed under it" (9). When she is "among her own caste" she had "an easy, independent carriage […] and a high and 'sassy' way" (9). But when she was around white people she was "meek and humble" (9). Society defines her as black only because of her tattered clothing and lower-class vernacular. These social constructions, along with her intellect and strength, highlight the fallaciousness of Dawson's Landing's definitions of race.
Her sense of morality is constantly in question. Early on the novel when she sees Judge Driscoll has left some money out, she does not take it, thanking the fact that she "was saved in the nick of time by a revival", saying "'Dad blame dat revival, I wist it had a ben put off till tomorrow" (12). Later on in the novel her only concern becomes protecting herself and her son. She is willing to do anything for him. She complicates the binary of good and evil, and becomes increasingly darker throughout the novel. This is a direct result of desperation, as she is forced to make decisions more erratically.
She switches Tom and Chambers in their infancy in an effort to save her son the pain of serving the same life sentence of slavery that she has endured. Nevertheless, she enjoys seeing her son, a black man, in a position of power. She actively seeks to change the status quo in her society, and uses her and her son's multiraciality to do so.
Later when the death of Judge Driscoll frees Roxy, she works hard until her body is arthritic, and she comes back to see her son. She becomes enraged when she sees that her son has become a criminal, squandering the opportunity she gave him by falling prey to society's spoiling of him. She takes control of his life, demanding that he turn over a part of his allowance to her. She masterminds criminal plans with her son, and he betrays her, selling her "down the river" to an abusive slave master. She escapes by attacking her overseer and returns to Tom, telling him that she will reveal his true identity as a black man if he does not buy her freedom. After Tom fails at doing this, and gets caught in the Murder of Judge Driscoll, Roxy lives the duration of her life with "the spirit in her eye quenched" and "the voice of her laughter ceased in the land" (120). She fulfills the prophecy of the tragic mulatto, forever an outcast to society, forever miserable.
Roxy comports herself with confidence as a beautiful light-skinned woman around black people, and as a lowly ignorant black woman among white people. Her presentation, her vernacular, and even her morality are largely defined by the perceptions of those around her, more than how she defines herself. Despite her pragmatism and attempts at disrupting the status quo, she falls victim to society's cruel logic.