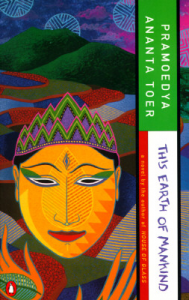 Character: Annelis Mellma

Source Text: Toer, Pramoedya Ananta This Earth of Mankind

Entry Author: Mike Steigman
Annelies Mellema is the illegitimate daughter of Dutch settler, Herman Mellema, and Javanese (Indonesian) Concubine, Nyai Ontosoroh. She is the sister of Robert Suurhoff. Both he and Annelies are part Javanese, part Dutch or "Mixed-blood", as referred to in the novel. Both Mr. Mellema and Nyai rushed to board a ship when she was in labor so Robert could be born a Dutch citizen, but to no avail.
Annelies' introduction begins thus, "In front of us stood a girl, white-skinned, refined, European face, hair and eyes of a Native" (25). Her description is told through Minke, the protagonist's perspective. Minke is Javanese, yet fluent in Dutch and Western studies thanks to his schooling. Annelies on the other hand stays home, assisting her mother in working the fields and raising animals.
She acts incredibly childish throughout the narrative, with all decisions imposed upon her. mother, love interest, father, doctor and brother all and forcibly make decisions for her. Her will is frail and she falls ill at the slightest touch, namely without Minke's presence, continually drugged by the family doctor until Minke returns to her.
Once she wakes up from being drugged, the doctor tells Minke to "'Have pity on this child. She cannot face violence or harshness. She dreams of someone who will love her, who will give her pure love. She feels like she is living alone, by herself, without knowing the world'" (202).
Considered the "better child" between herself, and her mixed brother Robert Mellema, she maintains the farm with her mother, Nyai. Robert Mellema had also dropped out of school and "for him there would be nothing greater than to become a European and for all Natives to bow down to him (67). He desires to pass as Dutch, but is unable to do so due to lack of education and his darker skin color. Annelies leans toward her Javanese identity based off her close relationship with her mother. Nyai has told her stories about how Herman Mellema had slowly turned an incredibly evil man after Nyai had attempted to educate herself to be fluent in Dutch and Western studies. Ever since, Nyai has decided to keep Annelies out of schools. Coupled with Robert Mellema sexually assaulting her, Annelies wants nothing to do with her "Dutch" side of the family.
Before he and Nyai had met, Herman Mellema was married and had a son. His biological son visits and accuses him of having "committed a blood sin, a crime against blood" (99).
The text concludes with her forced departure from Java, being the illegitimate wife of the main character and the illegitimate daughter of Nyai in the eyes of Dutch law. The courts then decide to send her off to Europe. Once she exits the safe haven of her home, she leaves Nyai and the main character, the two natives or Dutch-educated "pure-bloods" alone in the house, newly confiscated by the government.
The first installment in the Buru Quartet, This Earth of Mankind was originally an oral story shared between Indonesian prisoners. When Pramoedya Ananta Toer transcribed the text to paper, he sought to 'correct the accepted version of the history of the ride of Indonesian nationalism' through Annelies, who embodies the frailty of the nation, the instability of relationships as a counterpart to Minke and Nyai, both pure-blood Natives well-versed in Dutch teachings yet rendered powerless.
Annelies' weakness is a microcosm of the relationship between colonizer and colonized. As an involuntary ambassador of the tragic princess, the walking manifestation of the union between 'civilization' and 'barbarism', she is wiped out by the end of the novel. As she exits, any hope of reconciliation between the Natives and the Dutch is systematically erased.
---