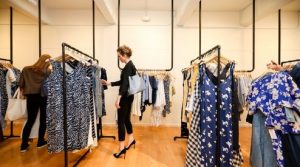 When ZipCar was founded in 2000 I was attracted to the idea of replacing ownership with service as a paths toward sustainability: fewer cars to manufacture and fewer parking spaces to create. Since then, sharing instead of owning has skyrocketed, with Airbnb leading the pack. But it is clear to me that this is just another path toward feeding the culture of consumerism.
Clothing rental, according to Vogue, has gone mainstream. Lord and Taylor, the venerable two-century-old flagship department store in New York is closing, bought for $100 million by the fashion rental business Le Tote. There are many systems for clothes rental in use but the most common seems to be one where a monthly subscription buys access to an unlimited closet, with thousands of items, available in small increments of a few at a time. The advertising is eerily reminiscent of the early days of ZipCar and Airbnb: as a personal experience that brings people together ("…this is more than a transaction. I think when you wear someone else's jacket or dress, it brings us a little closer because that experience and that karma passes through"), and as less consumption ("seventy percent of what we buy ends up in the garbage within the first two years, but every time you wear a rented item you reduce its carbon footprint and extend its lifespan"). The first one is nonsensical, but what about the second one?
I belong to the baby boomers generation, with perhaps outdated attitude toward fashion. But I try to imagine myself as a subscriber to a clothing rental service. In this scenario, each morning I decide what to wear in the office. There are thousands of choices before me, all attractive looking, each representing a different image. How to choose? I have no idea, so perhaps I will choose something different every day. I am not kidding: according to Vogue there are women who stop by at a rental place on the way to work to select clothes for the day. The same conundrum repeats itself with evening clothes. I can just imagine this becoming an all absorbing preoccupation: choosing, trying on, picking up and dropping off, observing what others wear and aiming to recreate some looks, planning what to choose next time, taking notes, checking things out, following the trends.
This brings the consumerist culture to a whole new level, which is exactly the opposite of what is needed to move toward less consumption-oriented society.