I have always loved shoes. Not just any shoes: elegant, high quality, classic in design, wearing well over time. Even when I was a graduate student living in New York, when my income was laughable, I shopped for shoes at Bloomingdale's. Over the years, I have created a nice collection. It was not on Imelda Marcos' scale but for me these two or so dozen pairs of elegant shoes, in different colors, were a source of pleasure.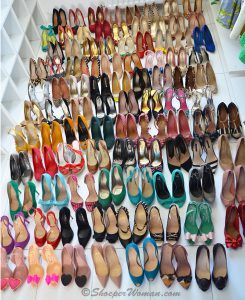 Well, it all came to an end about two years ago when foot problems signaled the end of an era. I was forced to transition to different types of shoes: more comforting for my feet and less comforting for my ideas of styles and beauty. My carefully built collection became obsolete. It took me about a year to face up to that fact and another year to give it away, in stages, painfully and regretfully. I replaced it with a small and utilitarian set of shoes I mostly dislike.
But here is a bright side to this involuntary downshifting. For one thing, I hardly ever need to ponder what shoes I should wear for an occasion. I have more room in my closet. And I lost all interest in going to shoe stores because finding a pair that will fit is so difficult and unrewarding, and the outcome so uninspiring, that the less I try the better off I am. And I am saving money.