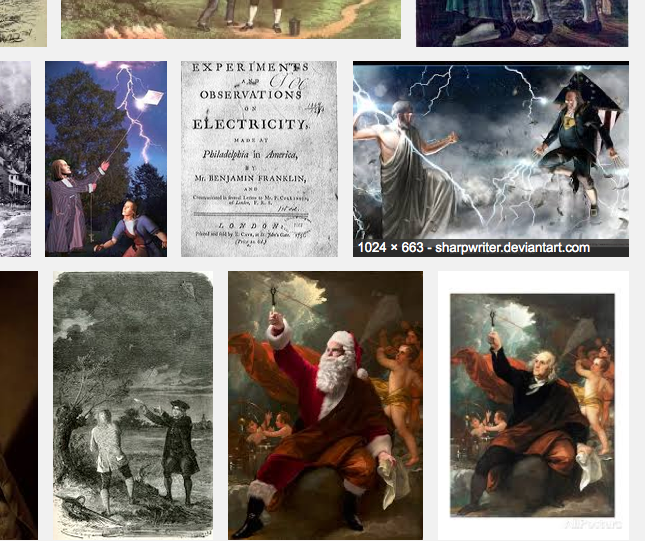 My friends have been posting a lot of funny Franklin stuff this week, including that clickbait Benjamin Franklin's Daily Schedule Will Make you Feel Worthless and some amazing remix images of Founding Fathers on DeviantArt, including everyone's favorite FRANKLIN VS. ZEUS image. This is all particularly amusing to me, as I somehow find myself in Philadelphia for the July 4th weekend, and Franklin is everywhere.
I didn't really plan it this way, but this was the best time during a busy summer schedule to take up a fellowship at the Library Company of Philadelphia and the Historical Society of Pennsylvania. Both places are closed for the long, patriotic, holiday weekend, however, and so I though I would share some Loyalist poetry that I've been reading.
This first piece is written in January of 1776 by an earnest Loyalist imprisoned in Philadelphia, presumably, for political sympathies:
    Verse &tc

Confinement hail! in Honors justest Cause
True to our King, our Country and Our Laws
Oposing Anarchy, Sedition, Strife
And every other Bane of Social Life
These Colonies of British freedom tired
Are by the Phrensy of distraction fired
Surrounding Nations with Amazement View
The strange infatuation they pursue
Virtue in tears, deplores their Fate in Vain
And Satan smiles to see disorder reign
The days of Cromwell, puritanick Rage
Return'd to Curse our more unhappy Age
Rushing to Arms they madly Urge their Fate
And levy War against their Parent State
.  We friends of Freedom Government and Laws
Are deemed inimical unto their Cause
In Vaults with Bars and Iron doors confined
They hold our Persons but can't Rule the Mind
Act now We cannot, else we freely wou'd
But Calmly suffer for our Country's Good
Success on Earth sometimes to Ill is given
To brave misfortune is the gift of Heaven
What man could do, We did, our Cause to Serve
We can't Command Success, but We'll deserve

.              Philada New Goal Jany 1776
The poem is on a single sheet of paper in Society Miscellaneous Collection, Box 13-B (Poetry and Music), Folder 2 (Local Poetry [early]), The Historical Society of Pennsylvania. Like most of the poems in this wonderful miscellany, there is little evidence of who or when or why the poem was written and preserved beyond what is implied in the text itself. It's nice to have a date and place of composition on this poem, but mysteries remain. The paper is folded (like many of the single sheets in the collection) in a way that suggests it may have been enclosed in a letter at some point soon after its composition. A little clue on the back of the sheet only adds to the curiosity, and I am posting a close-up picture of the notation to see if anyone can come up with a better conjecture than my fanciful notion: that it looks kind of like a shopping list, or perhaps request for some necessities from prison:
I have not been looking for Loyalist poetry. In fact, I am trying very much to end my new book project (called "What's the Matter with Early American Poetry?") in 1773, just before the explosion of Revolutionary era poetry. But for some reason, as soon as I landed at HSP, it seems I could not avoid Loyalist poetry. I have been particularly charmed by this little common-place book:
The section of "local" writing (by members of the compilers circle, it would seem) contains much poetry and prose writing that illuminates aesthetic sensibilities of elite Loyalists in Philadelphia during the war, including a long, first-person prose account of an elaborate all-day festival in British-occupied Philadelphia minutely planned by Major John André. (Read more and view objects related to the Machianza at the LCP Arts and Artifacts collection here.) Just before the 20-page account, the common-place compiler pastes in an etymology of the term "Meschianza" or "medley" from the Italian "to mix":
Okay, on to the Franklin poem, which is probably why you started reading this post in the first place. But, first, in order to get the joke you have to know that the Franklin stove used an "inverted syphon" to draw heat and fumes down and up into the body of the stove. This would reduce smoke and increase heat in the room. (Well, that was the idea anyway. You can read a little more about the Franklin stove here.)
So here's the Franklin poem:
Inscription
on a curious Chamber Stove in the Form of
an Urn, contrived in such a Manner as
to make the Flame descend instead
of rising from the Fire; invented by the
celebrated D.r Benjamin Franklin.
___________________________

Like Newton sublimely he soar'd,
.   To a Summit before unattain'd;
New Regions of Science explor'd,
.   And the Palm of Philosophy gain'd.

With a Spark that he caught from the Skies
.   He display'd an unparallel'd wonder,
And we saw with delight & Surprise,
.   That his Rod would defend us from Thunder.

Oh! had he been wise to pursue
.   The Tract for his Talends design'd,
What a Tribute of Praise had been due
.   To the Teacher & Friend of Mankind

But to Covet political Fame
.   Was in him a degrading Ambition,
With a Spark that from Lucifer came
.   He kindled the Blaze of Sedition.

Let Candor then write on his Urn,
.   "Here lies the renowned Inventor,"
"Whose Flame to the Skies ought to burn,"
.   "But inverted descends to the Center."
_______________
.   Written by the Reverend
.   M.r Jonathan Odell*
Happy Independence Day, all!
Loyalist and Patriot alike.
*And, oh, hey. If you are tired of getting your Independence Day Kitsch on watching 1776 again ("Someone ought to ooopen up a window!" "Sit down, John!"), you could try The Scarlet Coat (1955), a kind of down payment on also kitschy AMC series Turn: Washington's Spies that features George Sanders as Jonathan Odell.