People

CURRENT MEMBERS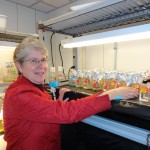 Deborah Robertson, PhD
Professor | debrobertson@clarku.edu
Research Interests:
My research program investigates the physiological ecology and the evolution of nitrogen metabolism in marine diatoms and other ecologically important groups of marine algae. In many marine environments, nitrogen availability is an important factor regulating primary productivity. By characterizing the enzymes and regulatory pathways involved in nitrogen metabolism, this work should contribute to our understanding of the coupling between nitrogen metabolism and productivity.
PAST MEMBERS
Post-doctoral Associate :
Aurélien Tartar – Associate Professor, Nova University
Sohini Ghoshroy – Framingham State University
Graduate Students:
Minoli Perera PhD 2017
Sohini Ghoshroy PhD 2011
Emily Stone BA 2016; MS 2017
Baxter Worthing BA 2016; MS 2017
Rebecca Littlefield BA 2015; MS 2106
Hannah Reich BA 2015; MS 2016
Joshua Bugge BA 2014; MS 2015
Caroline Johnson BA 2013; MS 2014
Hillary Sullivan BA 2013; MS 2014
Katherine Freidman: BA 2012; MS 2013
Katie Minnix: BA 2012; MS 2014
Jessica Alexander: BA 2011; MA 2013
Dylan Scott: BA 2011; MA 2012
Jacqui Mitchell: BA 2010; MA 2014
Grant Goodrich: BA 2009; MA 2011
Kathryn Brown : BA 2005; MA 2007
Michael Gershenovich : BA 2002; MA 2003
Freya Hendrickson : BA 2002; MA 2003
Undergraduate Students:
Francesco Rizzini Bisinelli 2022
Ariana Afshar 2021
Joseph Teng 2021
Veronica Pelletier 2020
Michelle Robidas 2019
Katherine Battey 2018
Christina Campaigna 2018
Meredith Houghton 2017
Celine Miranda 2017
Sam Smith 2017
Lisa Howe 2016
Calder Sett 2016
Vanessa Adam 2015
Rebecca Littlefield 2015
Hannah Reich 2015
Joshua Bugge 2014
Kristen Cullity 2013
Caroline Johnson 2013
Karissa Lear 2013
Magali Lemahieu 2013
Hillary Sullivan 2013
Katherine Friedman 2012
Jessica Alexander 2011
Pryanka Kapur 2011
Dylan Scott 2011
Jacqui Mitchell 2010
Dan Whitmore 2010
Grant Goodrich 2009
Kevin Brown 2008
Jenna Nguyen 2008
Bryce Winant 2008
Katrina Twing 2007
Nilufer Rahmioglu 2006
Kriti Gaur 2004
Molly Letsch 2004
Miguel Stein 2004
Eva Zadykowicz 2004
Laura Brentner 2003
Joanna Dubois 2003
Jessica Weagle 2003
Victoria Byfield 2002
Charlene Sangenario 2002
Misha Wood 2002
Crystal Firth 2001