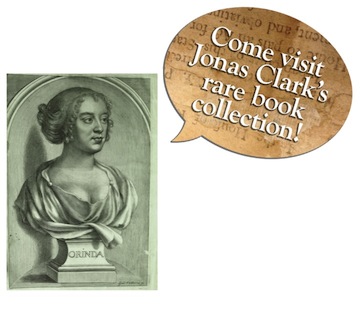 Every semester that I teach my rare books course, my students hold an Open House at the Rare Book Room at Goddard Library, which you can read a bit more about here. This semester the Open House coincides with our annual Academic Spree Day, which highlights all kinds of undergraduate research and creative accomplishment. If you are in the neighborhood, come on by:
Rare Book Open House
Wednesday, April 27
1:00-3:00
Rare Book Room, Goddard Library, Clark University
Then stick around for another bibliophile treat, as Dan DeSimone (Eric Weinmann Librarian at the Folger Shakespeare Library) gives the final Friends of Goddard Library talk of the season:
Learning Shakespeare at an Advanced Age
Wednesday, April 27
4:30 (with light refreshments at 4:00)
Jefferson 218, Clark University
Here is a handy map, in case you are new to campus.
So come and celebrate celebrate William Shakespeare (on the week of the 400th anniversary of his death), and come check out some rare books from the Jonas Clark collection. I can't promise any First Folios, but I can promise lots of interesting books, from rare incunables to modern miniatures. Here are some preview shots of the books my students have been working with this semester: