2016-17
LGBT Asylum Taskforce. February 2017.
Helga Druxes (Williams College): "'Montag ist wieder PEGIDA-Tag': Pegida's Community Building and Discursive Strategies." March 2017.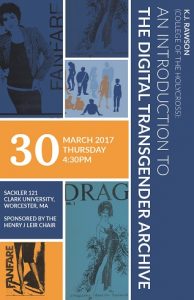 KJ Rawson (College of the Holy Cross): "Introducing the Digital Trans Archive." March 2017.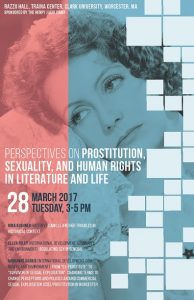 Perspectives on Prostitution. March 2017.
Nina Kushner (Clark University, History): "Camille and Her Troubles in Historical Context."
Ellen Foley (Clark University, IDCE): "Regulating Sex in Senegal."
Marianne Sarkis (Clark University, IDCE): "From 'ex-prostitute' to 'survivor of sexual exploitation': Changing terms to change perceptions and policies around commercial sexual exploitation (CSE)/prostitution in Worcester."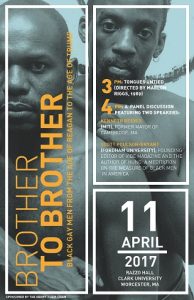 Ken Reeves (MIT): "Brother to Brother: Gay Black Men from the Age of Reagan to the Age of Trump." April 2017.
Robert Sember (New School University): "Live to be Legend: Health, Art, and Kinship in the House and BallroomCommunity." April 2017