2009-2010
Joachim Pfeiffer (Pädagogische Hochschule Freiburg), "Jacob the Liar," March 2010.
Rebecca Jordan-Young (Columbia University), "Hardwiring and Soft Science: Rethinking Sex in the Brain," March 2010. (Facilitated and introduced.)
Peter Filkins, "Translating Ingebord Bachmann," at Worcester Polytechnic Institute, January 2010. (Contributed.)
Nora Gomringer, slam poetry at Worcester Polytechnic University, December 2009)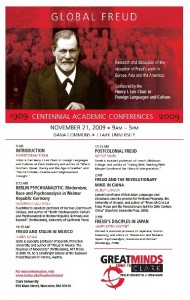 "Global Freud." November 2009
Veronika Fuechtner (Dartmouth), "Berlin Psychoanalytic: Modernism, Race and Psychoanalysis in Weimar Republic Germany"
Rubén Gallo (Princeton), "Freud and Stalin in Mexico"
Nicole Simek (Whitman), "Postcolonial Freud"
Wendy Larson (University of Oregon), "Freud and the Revolutionary Mind in China
Keith Vincent (Boston University), "Freud's Disciples in Japan"
Sander Gilman (Emory), "Electrotherapy Then and Now: Psychoanalysis and Contemporary Treatments in Psychiatry"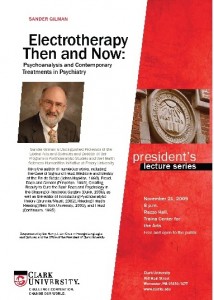 "Music and Psychoanalysis." QX performs "Lacan," by Matt Malsky (Clark University). November 2009.
Zoe Beloff, "The Coney Island Amateur Psychoanalytic Society and its Circle," October 2009.
Sophie Freud, "Living in the Shadow of the Freud Family," October 2009. (Facilitated and introduced.)
Gerard Camoin, "Using Poetry to Speak French," Fall 2009. (Contributed.)