2010-2011
Susan Bernofsky, "Translating Transnationalism: Yoko Tawada's 'Naked Eye.'" April 2011.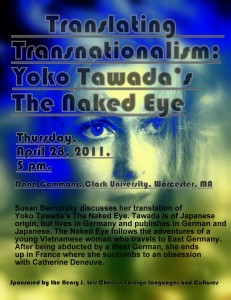 "A Mirror on Which to Dwell," Elliott Carter's Settings of Elisabeth Bishop's poems, in honor of the 100th anniversary of Bishop's birth in Worcester, MA. April 2011.
Readings and opening lecture by Lloyd Schwartz (University of Massachusetts Boston)
Performance by the East Coast Contemporary Ensemble.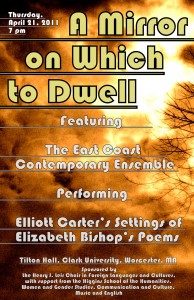 "The German Discovery of Sex: Activism, Medicine and Literature." April 2011
James Steakley (University of Wisconsin), "Hirschfeld's Role Models"
Scott Spector (University of Michigan), "The Bite of Zastrow: Sexuality and the Subject of Violence"
Margaret Breen (University of Connecticut), "Queer Translations: Prime-Stevenson's Imre (1906) and The Intersexes (1908) and the Emergence of Homosexual Identity"
Yvonne Ivory (University of North Carolina), "The Oscar Wilde Scandal in the German Press
Robert Beachey (Goucher College), "Gay Berlin"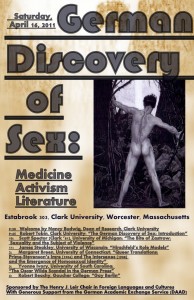 Julia Ireland (Whitman College), "Natural Science and National Socialism: Sleuthing in the Heidegger Archives," February 2011.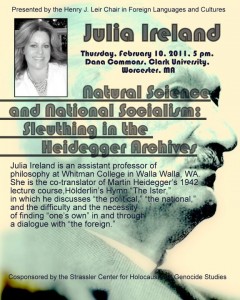 All posters by Sampson Wilcox.