2011-2012
Stanley Corngold (Princeton University), "Franz Kafka and the Poetry of Risk Insurance." April 2012.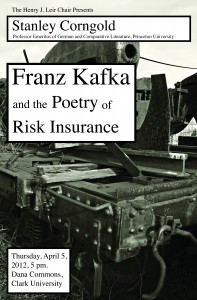 German Film and the Frankfurt School. Spring 2012
Gerhard Richter (Brown University), "Walter Benjamin's 'The Work of Art in the Age of Mechanical Reproduction.'" March 2012.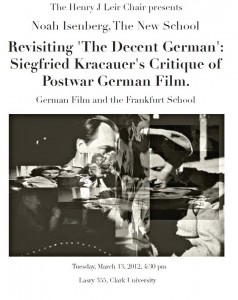 Noah Isenberg (Eugene Lang College, The New School for Liberal Arts), "Revisiting 'The Decent German': Siegfried Kracauer's Critique of Postwar German Film." March 2012.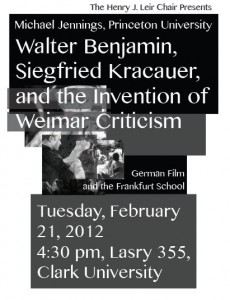 Michael Jennings (Princeton University), "Benjamin, Kracauer, and the Invention of the Criticism of Popular Culture." February 2012.
Queer Theory and the Roundabout. Fall 2011
Brad Epps (Harvard University), "The (Queer) Space of the Vampire: Materiality and Disappearance in the Films of Iván Zulueta." December 2011.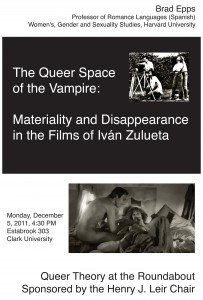 Worcester LGBT Asylum Taskforce, December 2011.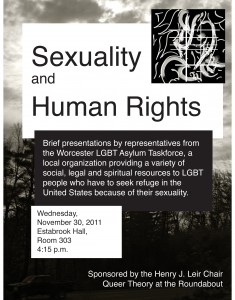 Thibaut Schilt (College of the Holy Cross), "François Ozon and Queerness à la française." November 2011.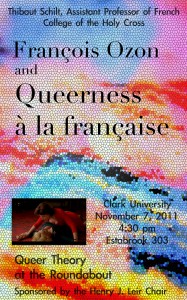 Andrew Parker (Amherst College), "Male Maternity in Nietzsche: Queering the Mother's Gender." October 2011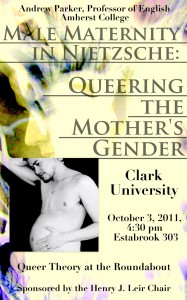 All posters by Sampson Wilcox