Wildlife Conservation Research Seminar (GEOG336)
I co-teach a Conservation GIS Research Seminar during the Spring Semester, together with Associate Professor John Rogan from Clark University Graduate School of Geography. Teaming up with the Wildlife Conservation Society, students work in small groups on collaborative conservation projects.
The course follows a workshop-seminar and laboratory format in collaboration with the Wildlife Conservation Society based in New York City. Students wil apply landscape ecology, GIS and remote sensing skills to achieve explicit conservation goals related biodiversity conservation. Project results are presented by students at the end of the semester to Wildlife Conservation Society staff.
Spring 2019
This semester students evaluated Rangeland Condition Trends and the Implications of Management for Bison Reintroduction in Montana.
Spring 2018
This semester we applied remote sensing and spatial analysis for marine conservation. Students worked in two groups, evaluating the effects of sea ice change in the Arctic and its impact on Walrus habitat, and identifying illegal fisheries in Patagonia through remote sensing.
Students use GIS with goal of protecting walruses in Arctic, sea life in Patagonia
Spring 2016
During this semester students used remotely sensed data to identify anthropogenic grassland degradation in four areas of interest: the Wakhan Corridor in Afghanistan, the southern Gobi desert in Mongolia, the Patagonian steppe in Argentina and Ruaha national park in Tanzania. The main objectives were to distinguish locations of degraded grasslands vs. non-degraded grasslands; to identify areas of degradation not correlated with natural climatic variables (rainfall and snow cover), as possible areas of anthropogenic degradation; and finally, to use supporting data to find the causes and drivers of degradation, specifically focusing on those caused by anthropogenic factors.
Spring 2015
Another exciting semester for GEOG336! This time, students used CLASLite to map forest cover in Cambodia, Cameroon, Guatemala and Madagascar. This project was related to WCS REDD+ initiatives in those countries. The aim of the project was to evaluate how classifications done with CLASLite compared to previous classification efforts in the region. Students also evaluated historical changes and generated scenarios of deforestation using TerrSet Land Change Modeler.
Below is an article about the research done this semester (Geography Newsletter, Summer 2015)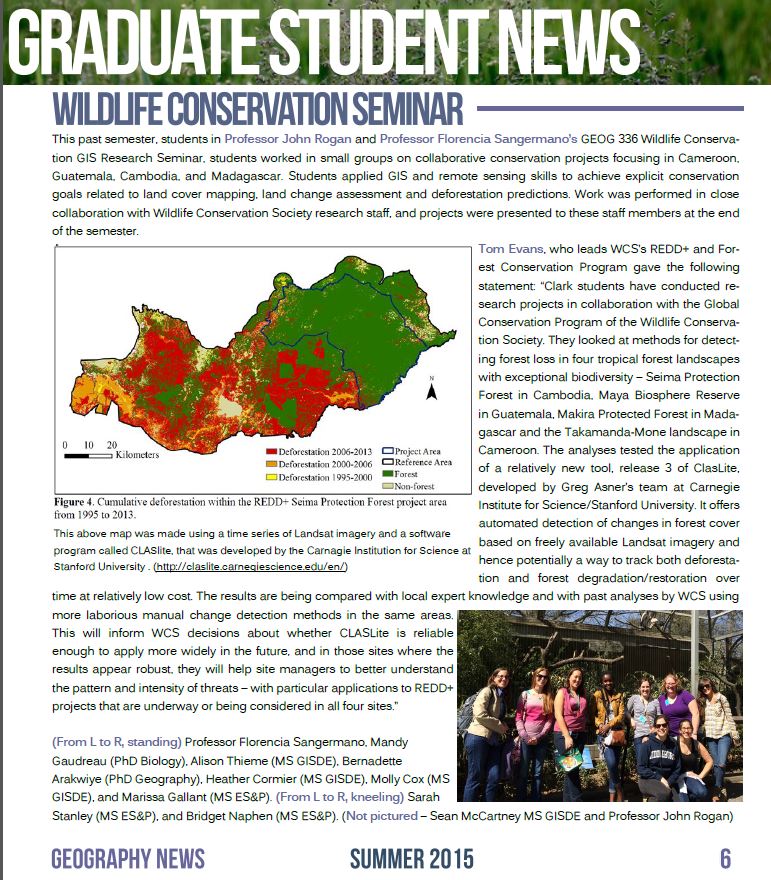 Spring 2014
During the Spring 2014 students used Landsat 8 images to detect the distribution of coastal and marine habitats such as coral reefs, seagrass, mangroves, and estuarine terrestrial land cover types. They evaluated different classification and image pre-processing techniques and developed habitat maps for the Pearl Cays of Nicargua, Taninthayi Marine Corridor of Myanmar, New Ireland Island of Papua new Guinea and the Congo River Basin Coast.
Spring 2013
During the Spring semester 2013, students examined the conservation status of Guanaco in southern Argentina, and assessed the threats to viable habitat caused by livestock and ranching activities as well as the sensitivity of the region to climate linkages such as El Niño. The second group of students examined the potential impacts of expanding wheat agriculture north of the Tarangire Park (Tanzania) on elephant movements, using radio-collar GPS data, as well as the relationship of precipitation in the region to warming in the Indian Ocean.
See Clark's news about the class.
Spring 2012
During the Spring semester 2012, students worked on four distinct regions: Madagascar, South America, New York State and Mongolia. Each of these projects had specific conservation challenges. Specifically, the students studied general landscape dynamics including land cover change, interannual variations in productivity, soil erosion, coastal sedimentation, and localized habitat changes.