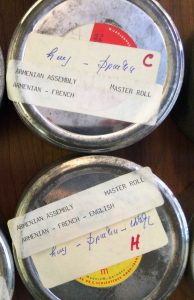 To analyze the French materials in the Guerguerian Archive, we must first separate them into two categories: original French documents and materials translated into French from other languages. The second group of materials, those translated into French, can be found in Guerguerian's personal archives, labeled as Archive II. The majority of these documents consist of original Ottoman or Armenian correspondences, reports or official documents that were translated into French by Guerguerian himself. Reports of the 1915 Investigation Committee that was dispatched to various provinces, as well as excerpts from testimonies found in the investigation folder of the Istanbul trials, can all be found among these translated French documents.
In addition to the translations, work notes, correspondences, and the drafts/manuscripts of books and articles written by Guerguerian in French can also be found in the personal archive. Guerguerian was fluent in French and thus conducted some of his work directly in the French language. For example, Guerguerian took extensive notes on and attempted to publish a catalogue of articles pertaining to the Istanbul Trials taken from the French newspaper Renaissance, which was being published in Istanbul during 1919-1920.
The original French documents are mainly within Archive III. While, in fact, some of these documents can be found dispersed throughout the personal archive (Archive II), we took these materials and collected them together in an organized manner for Archive III. For more information please go to Archive III.