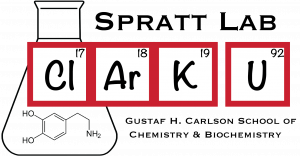 Welcome to the Spratt Lab! We are located in the Carlson School of Chemistry & Biochemistry at Clark University. Our group is interested in understanding enzyme catalysis and protein-protein interactions for enzymes involved in the ubiquitylation-signaling pathway. Working at the interface of physical biochemistry and chemical biology, our group uses biochemical and biophysical techniques including solution nuclear magnetic resonance (NMR) spectroscopy to understand how HECT E3 ubiquitin ligases attach ubiquitin or ubiquitin-like proteins on to a substrate protein.
This website will give you some background on our research program at Clark University, group members (current and past), our publications, a list of the instruments in our well-equipped lab for routine protein chemistry work, lab news, and links to websites we routinely use to aid in our research endeavors.
*** Undergraduate students interested in volunteering and getting involved in research are encouraged to send an email to dspratt@clarku.edu ***
Recent News
August 24th, 2020 – Don's commentary on "Five Practical Tips for a Successful Career in STEM" was published by Diverse: Issues in Higher Education. Check it out!