To learn more about Clark University, click here.
Directions to our lab
The Center for Couples Research is located at Clark University, 950 Main St. in Worcester, MA. Our interview room, on the 3rd floor of Jonas Clark Hall is room 326. Jonas Clark Hall is a large red brick building with a large clock on top in the center of campus that faces Main Street and the university gates, which you can see on the map below.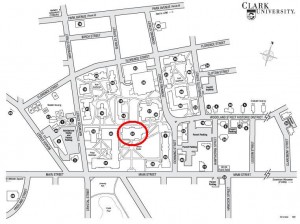 Click for larger image
When you get to front of the Jonas Clark building (where you can see the clock), enter the glass door to the right of the main doors, which will lead you to an elevator. Take this to the third floor. When you get off, turn to your right and go to the end of that hallway. We will be just off the hallway to the left in room 326 (labeled Marriage Checkup).
Parking
You can park in the parking lot on the other side of Main St., directly across from the university gates, between the church and pharmacy. Also, you can park in any spots on Main St. on the Clark side in front of the gates. There's also street parking on Downing St. and Maywood St. which run perpendicular to Main St. on both sides of the University gates.