Around the globe, 4.3 babies are born every second . And so far in 2016, 123,120,000 have been born. However a few of those babies will grow up without a mother. Just this year alone, 294,500 and counting, women have died in childbirth.
While this statistic does not necessarily look like anything more than numbers, it harbors an ugly truth about the state of maternal health and morbidity around the globe; one that is directly linked to low income, lack of schooling, lack of rural health, lack of access to preventative as well as emergency medical care, corruption or discrimination within the healthcare systems and the government's role in these factors especially in developing countries.
Before the creation of the Millennium Development Goals, the global MMR (maternal mortality ratio) was comparatively worse than today. MDG 5's goal was to improve maternal health so that the MMR would decrease to less than 70 maternal deaths out of every 100,000 births. Although that has not yet been reached, the maternal mortality rate has decreased worldwide by 43%. Despite needing a lot more progress to take place, this exciting and reassuring fact is mostly due in part to the spur of attention towards maternal health that the MDGs created in 1990. The MDGs suggested a certain methodology that pushed for advancing towards a better and healthier society which varied from country to country.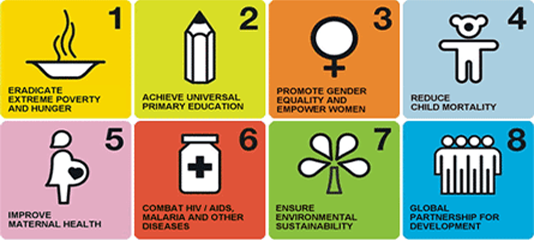 So how exactly did the UN go about doing this? While not explicitly described in many articles or reports on the MDGs progress, a similar approach was used for every country with of course varying aspects based on factors such as culture, political stability and epidemics such as HIV/AIDS. With such an enormous undertaking that aims to solve a large and complex issue, the assessment may seem impossible. How does a world agency like the UN accurately asses the progress? For one, they assess the quality and access to prenatal care, antenatal care as well as the proportion of births at hospitals. Additionally, they must rely on the individual data collection and reporting of each country which can sometimes be inaccurate. For example, Cuba has a complete Civil Registration and Vital Statistics Data system that provides high quality and detailed data to the UN and its various agencies. On the other hand, Peru's CRVS system is not as reliable and provides inadequate data. But when you take a step back, it seems that all this push towards this data centered improvement in maternal health is coming from agencies that follow the western narrative and this discredits the ambition and care local governments take towards the health and rights of the women and young girls in their country.
The HIV epidemic proves extremely dangerous especially in pregnant women where the virus can easily spread from the mother to the baby. One government making headlines is the Ethiopian government and their eagerness to expand Unitaid's HIV testing program. With this development more Ethiopian women are given the chance to find out their HIV status and take advantage of antiretroviral treatments that the government also recognizes importance in and which prevent the spread of the virus from mother to baby.
In Kyrgyzstan, the country with the on of the highest maternal mortality rates in all of Eastern European and Central Asian countries, the Kyrgyz Association of Obstetricians, Gynecologists and Neonatologists as well as the government has also recognized the importance in investing in the medical care system as well as reproductive health education. More funding has been recently given to improve staff training and specialist availability in rural areas. Although the MMR in this country remains high, Kyrgyzstan's three year $11 billion plan aims to drastically improve the quality of maternal prenatal and antenatal care by 2017.
Additionally, this month Tanzania will hold two important events geared toward the reproductive and sexual rights and health of women; Global Financing Facility and Family Planning 2020. The MDG goal of improving maternal health has done really well in Tanzania and can be seen in the push for better contraception practices as well as an impressive decrease in childbirth complications since the 1990s.
Overall, women's health particularly maternal health is one of those issues that some have taken to improving and some have not. The SDGs, with 9 more goals than the MDGs, encompass many of the issues previously not captured that directly impact maternal health which will undoubtedly increase SGD's role in maternal health. This gives hope for the future that the attention the MDGs brought to maternal mortality and the importance of maternal health will be recognized by governments as well as the local populations to work on moving forward and providing women and their families with basic reproductive and health rights.
---
Works Cited
Ford, Liz. "Kyrgyzstan Strives to Make Inroads on Poor Maternal Health Record." The Guardian, 12 Aug. 2015. Accessed Nov. 2016.
Kweifio-Okai, Carla. "Mothers of Wisdom: Ethiopian Women Ensure Their Babies Are Born HIV Free." The Guardian, 18 June 2015. Accessed Nov. 2016.
Millennium Development Goals – Millennium Cities Initiative. Accessed Nov. 2016.
Mwalimu, Ummy, et al. "Tanzania: Saving Mothers, Babies with a Result-Driven Health Plan."All Africa, All Africa, 7 Nov. 2016. Accessed Nov. 2016.
Nino, Florencia Soto, and Dpi Devsection Intern. Health – United Nations Sustainable Development. United Nations Sustainable Development, 17 Nov. 2016. Accessed Nov. 2016.
Trends in Maternal Mortality: 1990-2015. World Health Organization, 10 Oct. 2016.