Warning: The following post is upsetting. Some readers may be offended by its content which includes discussion of a rite of passage practice in Malawi – the initiation of young Malawian girls into womanhood through "sexual cleansing".
---
A few months ago, I came across an article on the internet about a 'Hyena' man in Malawi who was arrested for having sex with young girls. I decided to read more about this 'Hyena' man, and find out why he was having sex with children to begin with. According to the article published by BBC, "In some remote southern regions of Malawi, it's traditional for girls to be made to have sex with a paid sex worker known as a 'hyena' once they reach puberty. The act is not seen by village elders as rape, but as a form of ritual 'cleansing'". That's when I heard the term for the very first time – "sexual cleansing".
As shocking and disturbing as it may sound, sexual cleansing is actually a common practice in parts of Kenya, Zambia, Malawi, Uganda, Tanzania, Mozambique, Senegal, Angola, Ivory Coast, Congo, Ghana, and Nigeria. It is an African tradition where a woman is expected to have sex after her first period, after becoming widowed, or after having an abortion, as a cleansing ritual. In this blogpost, I will focus on the practice of sexual cleansing as a rite of passage for young girls in Malawi.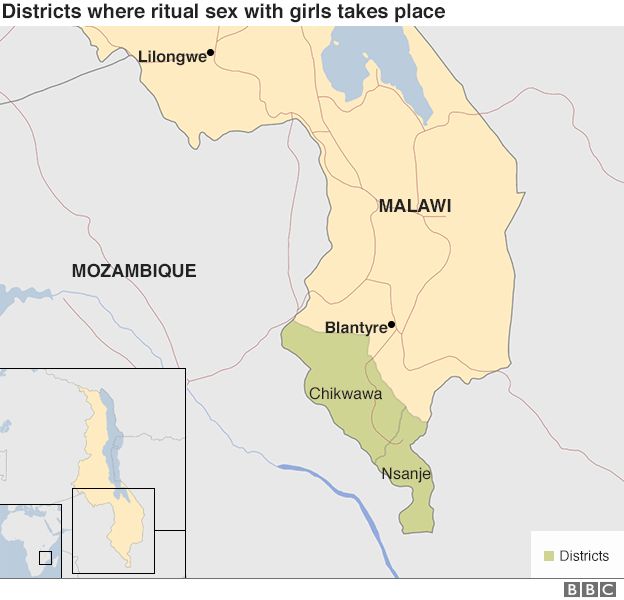 Malawi, located in southeast Africa, is one of the most underdeveloped countries in the world. There are many economic and health problems in the area including high rates of infant mortality and HIV/AIDS. Known locally as 'kusasa fumbi', sexual cleansing is considered a rite of passage for young girls in order to initiate them into womanhood. Girls as young as 6 years old are taught that they must have sex in order to get rid of "child dust". They are taught to believe that unless they undergo sexual cleansing, they will suffer great misfortune or become diseased. Once the girls seem ready to understand the concept of sex, their parents (those who can afford it) send them to "initiation ceremonies" or sex camps where they are made to complete the ritual. In the camps, men (often sex workers) are hired to finish the rite by having sex with these young girls. The 'Hyena' is forbidden from wearing a condom and the use of any other form of protection is against the rules of the ritual. The ritual lasts for three days.
A 2007 Malawi survey that gathered information about adolescents' reproductive health, knowledge and behavior found that, among 15-19 year olds, 26% of females and 49% of males are unmarried and sexually active. Among 20-24 year olds, 16% of females and 9% of males had had sexual intercourse by age 15, and by age 20, 79% of females and 74% of males had had sex.
The practice of sexual cleansing not only is a form of rape, but also plays a big role in contributing to the increasing number of HIV/AIDS cases in Malawi. Going back to the BBC article about the 'Hyena' man, it was later found that Eric Aniva (the name of the 'Hyena' man talked about in the article) was HIV positive. He's one of 10 'Hyenas' in his community and is paid $4 to $7 each time he is hired. In another article also by BBC, Mr. Aniva says that he did not mention his HIV status to those who hired him. Shortly after the initial article gained media attention, a warrant for his arrest was issued by Malawi President, Peter Mutharika. In his own words, the President was quoted saying, "This man (Mr. Aniva) was abusing children. He infringed their rights and I am sure some have dropped out of school and others have been made pregnant or contracted the HIV. So arresting him is one of the solutions and the best sentence for him would be life imprisonment." Presidential spokesman Mgeme Kalilani said in a statement, "(Mr. Aniva would) further be investigated for exposing the young girls to contracting HIV and further be charged accordingly." Mr. Aniva claims to have slept with 104 women and girls, unfortunately.
If this ritual is clearly very horrible, why does it still persist? It is very sad and frightening to know that such a practice has managed to survive all these years despite the progress and development that the world has seen. According to Alinane Kamlongera, author of "What Becomes of 'Her'?: A Look at the Malawian Fisi Culture and Its Effects on Young Girls", "The Fisi (sexual cleansing) practice does not only serve the male appetite (in the case of a Fisi himself) but also that of the potential/future groom. The entire initiation process..is based on teaching a girl how to please her potential suitor." In Malawi, there is a clear favoritism of boys over girls. Could this be a reason why the practice of sexual cleansing isn't given the urgency it deserves? Many of these young girls do not understand what they are forced into doing. The parents or guardians need to be informed of the consequences of unprotected sex and how this tradition contributes towards the spreading of STDs, or contraction of HIV/AIDS, for example. More awareness should be spread about this practice, so that these young girls understand that what is being done to them is so wrong in so many ways.
Below is a video courtesy of CCTV Africa that provides a brief report on the 'Hyena' man and the issue of sexual cleansing in Malawi.